Our Leadership
Our Pastor's Story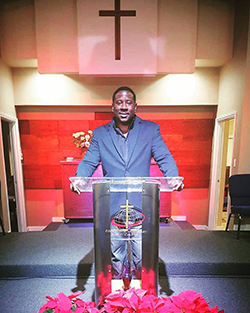 "An incredible husband, preacher, and man of passion" is a description given to Reverend Dr.Torrence Nivens by a colleague. This colleague further stated that "He is a Godly leader that will influence others by the life he lives."
Reverend Dr. Torrence Keyon Nivens was born on July 29, 1977 as a twin to Turkessa Keyondra Nivens in Los Angeles, California. He resided and attended school in the Los Angeles area, graduating from Cathedral High School. Reverend Nivens is always one to promote academic learning. After graduating from High School, he went on to further his education by attending Los Angeles City College, where he received his Associates Degree in Liberal Arts, Cal State University Northridge, graduating with a Bachelor's Of Arts degree, and Andersonville Theological Seminary completing both his Master's and Doctorate degrees in Theology.
It was while in high school that Reverend Nivens met the lady, Rebecca Gordon, who would later become his wife. Rebecca attended Bishop Conaty-Our Lady of Loretto High School. Torrence and Rebecca both attended Cal State University Northridge and graduated together with Bachelor's degrees in 2003. Torrence and Rebecca were married on July 19, 2003. In 2009, while attending a revival it was prophesied to them that they would have a son. On that same night God revealed to Reverend Nivens that their son would be named Ephraim. On July 10, 2010, they were blessed with a wonderful son, Ephraim Keyon Nivens and later with another son, Nehemiah Kasim Nivens.
Reverend Nivens has had a special relationship with the Lord and a divine calling on his life since he was a child. He was baptized at the age of 12 at Redeemer M.B.C. by Pastor Perry J. Jones. As a youth, he was always a part of the church youth ministries and was involved in the youth ministries of both the Los Angeles District Association and Western Baptist State Convention. In 1999, Reverend Nivens became the Youth Director at Redeemer M.B.C., where he put on gospel plays, started a church basketball league, birthed a big brother & big sister ministry, performed youth counseling, assisted in putting on various programs, and helped lead the youth and young adults towards winning souls for the Lord.
Reverend Nivens accepted his calling to preach the gospel in 2002 under the leadership of Pastor Curtis Monroe Jr. of Redeemer M.B.C. On December 14, 2003, he received his Minister Certificate License from Pastor Monroe and received his Certificate of Ordination on January 25, 2004. Under the direction of God, he was then moved to Messiah B.C. under the leadership of Pastor Perry Jones to become the Youth Pastor. He started a youth church ministry, taught youth Sunday school and bible study, and was a mentor to the youth and young adults.
Reverend Nivens and his wife Rebecca were sent by Pastor Perry J. Jones to Oxnard, California to assist Trinity M.B.C. In October, 2004, Reverend Nivens was selected to be the Pastor of Trinity M.B.C. where he faithfully served until God transitioned Reverend Nivens and Rebecca to another part of his vineyard. God placed in Reverend Nivens's heart to birth the New Beginnings Community Church, Ventura, California, in April 2008 where he led souls to Christ.
In January2013, Reverend Torrence Nivens became Pastor of Evangelistic Missionary Baptist Church in Port Hueneme, California, after serving as Acting Pastor from April 2012.
Reverend Dr. Torrence Nivens believes that God has His hands in everything that we can see or do and if we trust and lean on Him He will reveal His wonderful glory in our lives that others will come to know Him.
---
Worship
Worship comes from the Greek word proskyneo and its Hebrew equivalent shachac. Both of these terms refer to a posture of submission and thus an acknowledgement of God's sovereignty. The word worship is also derived from the Old English word weordscipe meaning worthiness or meritoriousness and thus giving God the recognition He deserves.
One of the terms that I personally use when referring to worship is an attitude of gratitude. Worship takes place apart from the temple of God, however, God does not intend that worship be connected with a place, but with the heart attitude. John 4:23-24 says, "But the hour is coming, and now is, when true worshippers will worship the Father in spirit and in truth, for the Father is seeking such to worship Him. God is a spirit and they that worship Him must worship Him in spirit and in truth." There is no other way to worship Him but in spirit and in truth. James 4:8 tells us to "Draw near to God and He will draw near to you" There is a drawing near to God that is holy, there is a drawing near to God that is righteous.
Worship is one of our weapons of war that have been given to us. Worship will take you to a place in God where your current situations will be minimized, because of the simple fact, that God is being magnified. As we worship, we are placing God above our problems. As we lift our hands, we are saying God you take it, because you are so much greater. As we kneel before Him in adoration and honor, He is there. I encourage you to submit to the Spirit of God and allow your worship to go to a greater dimension, for God is worthy of it.
---
Ministry Leaders
Deacons

Chairman: Deacon Mack Boone
Vice-Chairman: Deacon Hilton Hall
Deacon: Deacon Odell Washington
Deacon: Deacon Keith Aaron

Senior Spiritual Advisor:
Deacon Odell Washington

Youth & Young Adult

President: Sister LaShelle Stallings
Vice Pres: Brother MyShawne' Stallings

Media Content Manager: Sis. India Boone
Social Media Mngr: Sis. Jeane' Smith


Spiritual Advisor: Deacon Hilton Hall

Trustees

Chairperson: Sister LaRita Montgomery
Secretary: Sister Felicia Nickelberry
Trustee: Deacon Mack Boone
Trustee: Sister Kimberly Beaty
Trustee: Brother Eli Wiggins

Spiritual Advisor: Deacon Hilton Hall

Children's Church

Coordinator: Sis. Khalilah Durias
Advisor: Dr. Ruby Durias

Spiritual Advisor: Deacon Hilton Hall

Associate Ministers

Chairperson: Pastor Rebecca Nivens
Minister: Rev. Sylvester Dortch

Minister in Training: Min. Freddie Jenkins, Sr.

Spiritual Advisor: Pastor Torrence Nivens

Pastor's Aid

Chairperson: Bro. Woodrow Thomas
Vice Chairperson Sis. Erica McCree

Assistant Coordinators:
Sis. Hazel Jackson
All Associate Ministers, Deacons & Deaconess

Spiritual Advisor: Deacon Mack Boone

Deaconess & Ministers' Wives

Chairperson: Deaconess Edie Ballard
Vice-Chairperson: Deaconess Shondell Boone
Deaconess: Deaconess Arlether Washington
Deaconess: Deaconess Deborah Stewart

Ministers' Wives: Sis. Kim Jenkins

Ushers

President: Sis. Kimberly Beaty
Vice President: Sis. Kim Hunt
Treasurer: Bro. Willie Claytor

Spiritual Advisor:
Deacon Mack Boone

Couples

Coordinators:
Pastor Torrence Nivens
Pastor Rebecca Nivens

Singles

Coordinators:
Pastor Torrence Nivens
Pastor Rebecca Nivens

Membership

Chairperson: Deaconess Edie Ballard

New Members Welcoming Coordinator: Deacon Hilton Hall

Email Communications:
Sister LaRita Montgomery

Spiritual Advisor:
Deacon Hilton Hall

Women's Ministry - Sisterhood

President: Sis. Wylene Ellis
Vice President: Sis. Kim Hunt
Secretary: Sis. Linda Ticer
Treasurer: Deaconess Shondell Boone

Spiritual Advisor:Deaconess Mack Boone

Men's Ministry - Brotherhood

President: Deacon Keith Aaron
Vice President: Deacon Sylvester Dortch
Secretary: Deacon Hilton Hall
Treasurer: Deacon Mack Boone

Spiritual Advisor: Deacon Hilton Hall

Sick & Shut-In Shepherding/Condolence

Chairperson: Sis. Felicia Nickelberry


Co-Chairperson: Deaconess Shondell Boone

Spiritual Advisor: Pastor Torrence Nivens

Sunday School

Co-Chair: Deacon Mack Boone
Co-Chair: Deacon Hilton Hall



Church Beautification

Coordinator: Sis. Carol Bratton



Christian Education

Chairperson: Pastor Torrence Nivens
Vice Chair: Deacon Mack Boone
Assistant: Deacon Hilton Hall
Assistant: Deaconess Edie Ballard

Hospitality Team

Co-coordinator: Sis. Carol Bratton
Co-coordinator: Sis. Cynthia McLemore
Assistant: Deaconess Shondell Boone

Team:
Deaconess Deborah Stewart
Sister Dwayna Lewis
Sister Wylene Ellis
Sister Hazel Jackson

Spiritual Advisor: Deacon Hilton Hall

Finance

Treasurer: Sis. LaRita Montgomery
Asst. Treasurer: Sis. Felicia Nickelberry
Financial Secretary: Sis. Kimberly Beaty

Deacon Mack Boone
Deacon Keith Aaron
Deacon Hilton Hall

Spiritual Advisor: Deacon Mack Boone

Administrative

Church Clerk: Dr. Ruby Durias
Asst. Church Clerk: Deaconess Deborah Stewart

Bulletin Clerk: Deaconess Shondell Boone

Bulletin Board Clerk: Sis. Veronica Garrett

Spiritual Advisor: Deacon Mack Boone

Community Outreach Missions

EMCO (Evangelistic Missionary Comm. Outreach)
Coordinators:
Bro. Eli Wiggins
Deacon Mack Boone

FOOD SHARE MINISTRY
Chairperson: Dr. Ruby Durias
Co-chairperson: Sis. Latretta Trask

MILITARY MINISTRY
Chairperson: Sis. Felicia Nickelberry

RECOVERY – TRY GOD OUTREACH
Coordinator: Sis. Wylene Ellis
Secretary: Sis. Kim Hunt

Spiritual Advisor: Deacon Keith Aaron

Transportation

Chairman: Deacon Keith Aaron
Vice Chairman:

Driver: Deacon Keith Aaron
Driver: Pastor Torrence Nivens

Spiritual Advisor: Deacon Keith Aaron

Information Technology - Website/Facebook

Co-Chairpersons:
Brother Eli Wiggins
Deaconess Edie Ballard

Assistant:
Pastor Rebecca Nivens

Video Team - V-Team
Lead V-Team Mentor & Advisory Tech
Brother Eli Wiggins

Camera Tech
Minister Freddie Jenkins, Sr.

Website Responder: Prayer Requests
Pastor Rebecca Nivens
Assistant Software Tech
Sister Jeane' Smith

Creativity Liaison & Special Video Projects
Brother Myshawne' Stallings
Pastor Rebecca Nivens
Sister Hazel Jackson
Deacon Hilton Hall
Deaconess Deborah Stewart

Spiritual Advisor: Deacon Hilton Hall

Music

Musician: Bro. Marc Dortch

EMBaCy CHOIR
President: Sis Janice Teemer
Vice Pres: Sis. Terrina Price

Spiritual Advisor: Deacon Keith Aaron

MALE CHORUS
President: Bro. Woodrow Thomas
Vice Pres: Bro. Darrell Koontz
Director: Deacon Hilton Hall

Spiritual Advisor: Deacon Hilton Hall

PASTOR'S VOICES OF PRAISE
Chair: Sister Latretta Task
Co-chair:

Spiritual Advisor: Deacon Hilton Hall

PRAISE DANCE - 'Veiled Beneath His Wings'
President: Pastor Rebecca Nivens

Spiritual Liason: Deacon Hilton Hall

AUDIO & SOUND
Chairman: Brother Don Montgomery
Vice Chairman: Bro. Myshawne' Stallings

Spiritual Advisor: Deacon Mack Boone
Quick Links
Worship Schedule
Sunday Service
Sunday School 8:30 a.m.
Consecration 9:45 a.m.
Morning Worship Service 10:00 a.m.
Children's Church 10:00 a.m.
Baptismal Service (4th Sunday)
Holy Communion (1st Sunday)
Wednesday Service
Hour of Power Prayer 5:30 p.m.
Prayer Service & Bible Study 6:30 p.m.
New Members' Class – 6:30 p.m. - Quarterly
Deacons/Deaconess - 5:00 p.m. - (2nd Weds)
Weekly Services